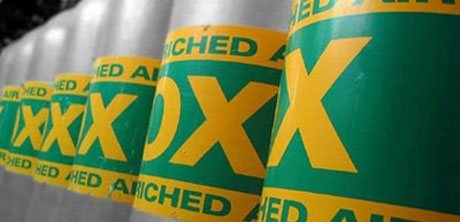 Dahab divers lodge is pleased to offer all our customers Free Nitrox tanks for all pre-booked diving.

12 liter Nitrox tanks (32%) are available, free of charge, for Enriched Air certified divers, if reserved at the same time as any pre-booked* diving activity.  The offer is limited to 2 x  12 liter tanks per day, any additional 12 litre tanks will be charged at 5 Euro per tank.
Please note this offer is limited to 12 liter tanks only - 15 liter Nitrox tanks will be charged at 8  Euro per tank.

*Must be pre-booked via e-mail prior to arrival in Dahab.

Of course you can also get your Nitrox certification here by us in the Dahab Divers Lodge. The Course (1/2 day theory) costs 75 Euro incl. certification and manual.
Nitrox Diving (enriched air):
Nitrox – enriched air diving is a new dimension in recreational diving.
Nitrox is the newest tool to extend the no-decompression time limits given to divers. It replaces some of the nitrogen in the compressed air with oxygen, so you absorb less nitrogen during the dive.
This makes diving safer within any known limits because it reduces risks for decompression illness and will help you make the most of your diving.