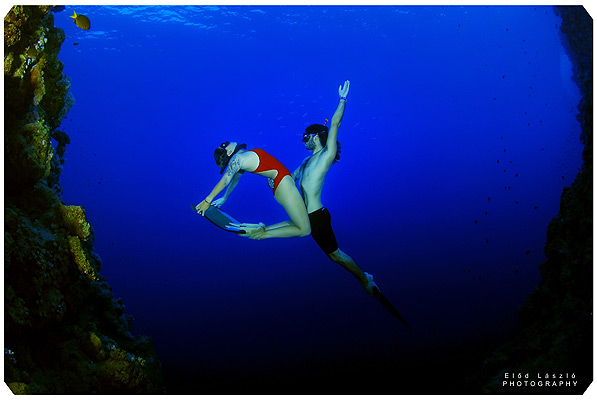 Freediving is a fast growing and developing sport that gives people freedom in the water.
You don't have to look at coral and the underwater from the surface anymore. Come to learn freedive and discover the amazing aquatic world using just your own body, just your own breath. When we freedive we dive on a single breath of air, without heavy equipment, using the power of our mind and body. Beside the ocean, freedivers are also discovering a world within themselves. Relaxation and self-awareness is the key to the freediving because in order to freedive you must be relaxed. Through freediving you will discover the potential of your own breath, how to use it better and how that can change the way you live out of the water as well. Currently world records are being set by people older than 50. No matter your age or level of fitness freediving is truly for everyone.


We are happy to collaborate with professional freediving instructors Katarina Linczenyiova and Adam Stern who will make your journey into freediving safe, educational and full of fun! Katarina is Slovakian national record holder in CWT freediving discipline (85mCWT) and in AIDA ranking for 2013 third deepest woman on the world in CWT discipline. Adam is in AIDA ranking for 2013 deepest Australian in CWT and CNF discipline. We are looking forward to help you to discover one of the most beautifull sports on the world.


We offer three different freediving courses and workshops
Apnea Discovery:
A one day introduction for those seeking a taste of what freediving has to offer. The focus of Apnea Discovery is to enjoy the water while learning the basics of freediving and staying safe. In the day there is one theory session and one session of breathing exercises before we go to train breath holds in the pool. Afterwards it's straight to the sea where we dive on the buoy practising diving deeper and enjoying the time spent underwater with just your body. We always make time to play on the reef as well, exercising all you just learnt under the eye of your instructor. Ratio is Max: 3 students per instructor.
Price: 80eur


Apnea Academy Level 1
Freediving course for absolute beginners. In this course we focus on correct breathing, relaxation, safety and efficient movement and technique underwater. After successfully finishing the course, students will obtain international certification. The course runs for 3 days where we will have classroom theory, stretching and breathing exercises, two sessions in the pool and 3 open water dives. Usually after the course students are able to hold their breath for 2 – 3 minutes and dive comfortably to 15 metres. Ratio is Max. 3 students per instructor.
Price: 240 euro


Apnea Academy Level 2
Freediving course for intermediate students. This course focuses on deeper equalization techniques, further relaxation, lung stretching, training methods, improved technique and skills underwater and, in general, to build more confidence diving to greater depths. We explore physiology in more detail and how our body works when we freedive. This is where those who enjoy casual freediving become knowledgeable and competent divers. After successfully finishing the course, students will obtain international certification. The course runs for 5 days with classroom theory, stretching and breathing exercises, sessions in the pool and open water dives. Usually after the course students are able to hold their breath for 3 – 4 minutes and dive comfortably to 25 metres.
Price: 300 euro
Relaxation and breathing workshop
Being relaxed, thinking positively and using the full potential of our own breath is very important not just for our mental but also our physical health. During this workshop we focus on different kinds of relaxation techniques which we can make part of our everyday routine and help with stress management. The main tool we use for this is our breathing by learning how to work with our breath in a better way. The workshop runs for 3 hours. Maximum number of students per class is 10.
Price: 30 euro